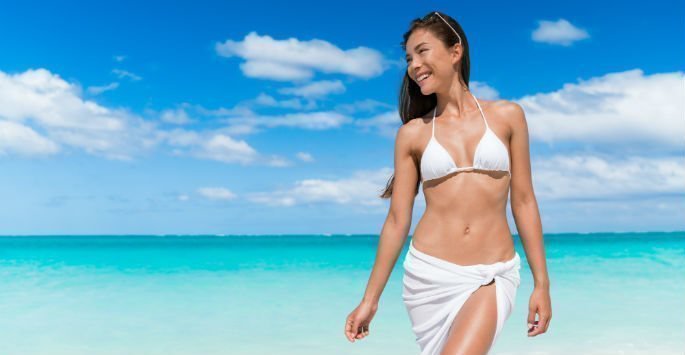 Abdominoplasty has become extremely popular, and it serves as one of the best ways to improve your appearance and get a flatter stomach. Also known as a tummy tuck, abdominoplasty is used to remove excess skin and fat from your abdomen. It can even restore muscles that have become weakened or separated. When you're finished with the procedure, you'll have a firmer, smoother stomach, and the results are better than what you'd get from daily exercise.
What Abdominoplasty Can Do for You
The purpose of a tummy tuck is to tone and shape your abdominal area. It's also effective for removing sagging skin. Depending on your needs, the procedure can remove sagging skin from the lower or middle abdomen.
A tummy tuck is also great for repairing separated muscles. It can reduce the massive bulge caused by excess skin, loose muscles and fat. Abdominoplasty can give your stomach a firmer, flatter appearance and correct a variety of abnormalities within the abdominal area. Many patients undergo a tummy tuck because it's capable of producing a flatter stomach, and it can even improve the functioning of your abdominal muscles.
Are You a Good Candidate?
If you're considering this procedure, you should know if you're a good candidate. Patients who benefit most from a tummy tuck have loose skin and stubborn abdominal fat that refuse to budge with diet and exercise alone. Good possible candidates also include those whose abdominal muscles have weakened by pregnancy.
How the Procedure Works
The exact procedure varies from patient to patient based on their individual needs, but in general, abdominoplasty involves removing excess skin and fat and tightening the underlying muscles across the abdominal area.
This procedure is great for restoring your pre-baby appearance, but it's also useful for body contouring after massive weight loss. If you're looking for a safe, effective way to flatten your abdomen, abdominoplasty may be right for you. Ask our board-certified Boston plastic surgeon about abdominoplasty during your consultation at the office of Joseph A. Russo, MD. We are located in Newton and proudly serve the Boston/New England areas with expertly personalized cosmetic procedures. Contact us today to schedule your consultation!