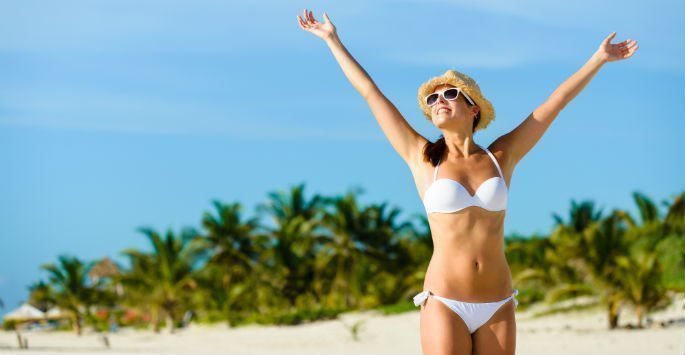 by Slone Mathieu
When the cold weather hits, the winter clothes come out of storage, and your skin gets packed away until the first thaw of spring. Well, Spring has sprung! Now that you're finally free to step out of the gear and shed the layers, you're faced with pale, pasty, hibernated skin. You know you're grateful for the warmer weather, but the last thing you want to do is put on a bathing suit.
Here are some tips to get you prepared and keep you protected as you lay your body bare:
1- Exfoliate. Cells turn over at a faster rate during the winter months. It is important to keep coaxing that layer of dead skin off the surface to avoid a dull, lackluster, unhealthy, appearance. Gentle acids should be used for the face. Try a lactic acid, derived from milk, which binds water while exfoliating. A synthetic scrub works well for the body. Focus on rough spots and apply it before shaving, to lift hairs and give you a cleaner, closer cut.
2- Hydrate. Follow with a good moisturizer. Simple serums, such as a hyaluronic acid, provide a great hydrating boost without being thick or oily. This is an example of a humectant; something that draws water in from the environment. If you have a drier skin type, you want to combine a humectant with an occlusive. Occlusive agents increase moisture levels by providing a physical barrier to epidermal water loss. Ingredients with occlusive properties include petrolatum, waxes, oils, and silicones. For the body, you want to use an emollient to make the surface layers of the skin softer and more pliable.
3- Wax Wisely. Be sure to wax 24-48 hours prior to your water play. Exposure to chemically treated or salt water can cause irritation, bumps, sores and even folliculitis. This inflammatory condition of the hair follicle is caused by exposure to bacteria in the water and results in a cluster of itchy, weepy, red bumps that may be accompanied by an upset stomach or fever. Antibiotics may be required to resolve the condition.
4- Tan. Yes, I said it! And, NO, not in a tanning bed!! Use a tanning moisturizer to gradually build color or book a spray tan session. Look for products that contain Dihydroxyacetone (DHA), which is derived from sugar beets or cane sugar. The skin-browning effect is the result of a nontoxic chemical reaction between DHA and the amino acids found in the epidermis. This is considered the safest form of tanning over chemically-derived self-tanners and sun exposure. Your bronzed skin will give you a healthy, active appearance while blending away surface imperfections and detracting from textural complaints.
5- Protect. Get a good sunscreen with SPF 30 for the body, and be sure to reapply often. Use a separate product for your face. Look for a broad-spectrum, physical block. Research shows that zinc oxide has the best UV absorption profile, and since it sits on the surface of the skin as opposed to being absorbed, it begins protecting you immediately.
6- Drink. The flowers are blooming, so cheers to that! But don't forget to alternate your beverage of choice with water. Not only will this keep the skin looking radiant, but it will help to flush some of the toxins from your winter shut-in.
After all this consideration and preparation, schedule you're appointment with Dr. Russo and Staff for a body consultation. There is still time to get beach-ready and book your summer fun!